Overview of US Curriculum School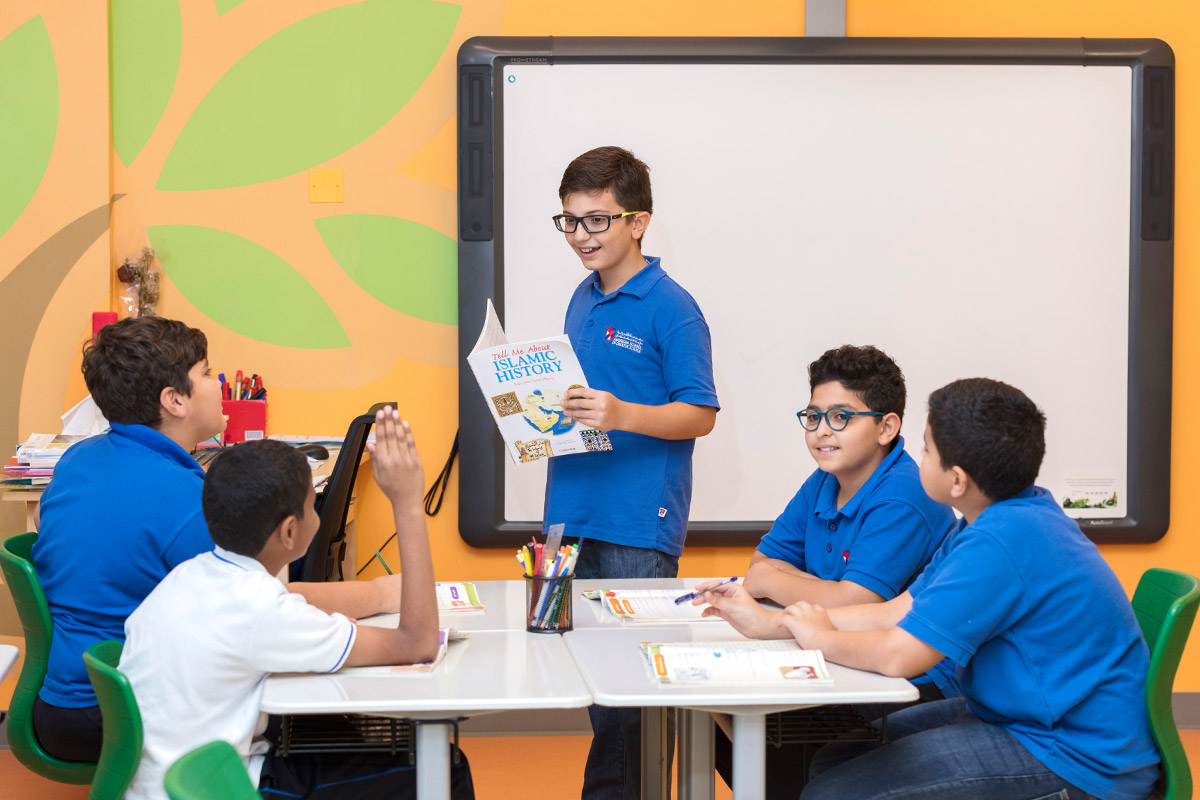 The US Curriculum is based on American Common Core State Standards for English Language Arts, Math, History/Geography, and Next Generation Science Standards for Science. This balanced curriculum gives more creative freedom to tailor the curriculum based on individual needs.
Supported by internationally recognized teaching and learning strategies, this personalized instruction is inquiry-based and hands-on. At our American Islamic curriculum school in Sharjah, students are supported by a wide range of co-curricular activities that ensure they have the opportunity to develop into well-rounded individuals who are ready to interact with their international peers.
Get to Know the KG & Elementary Curriculum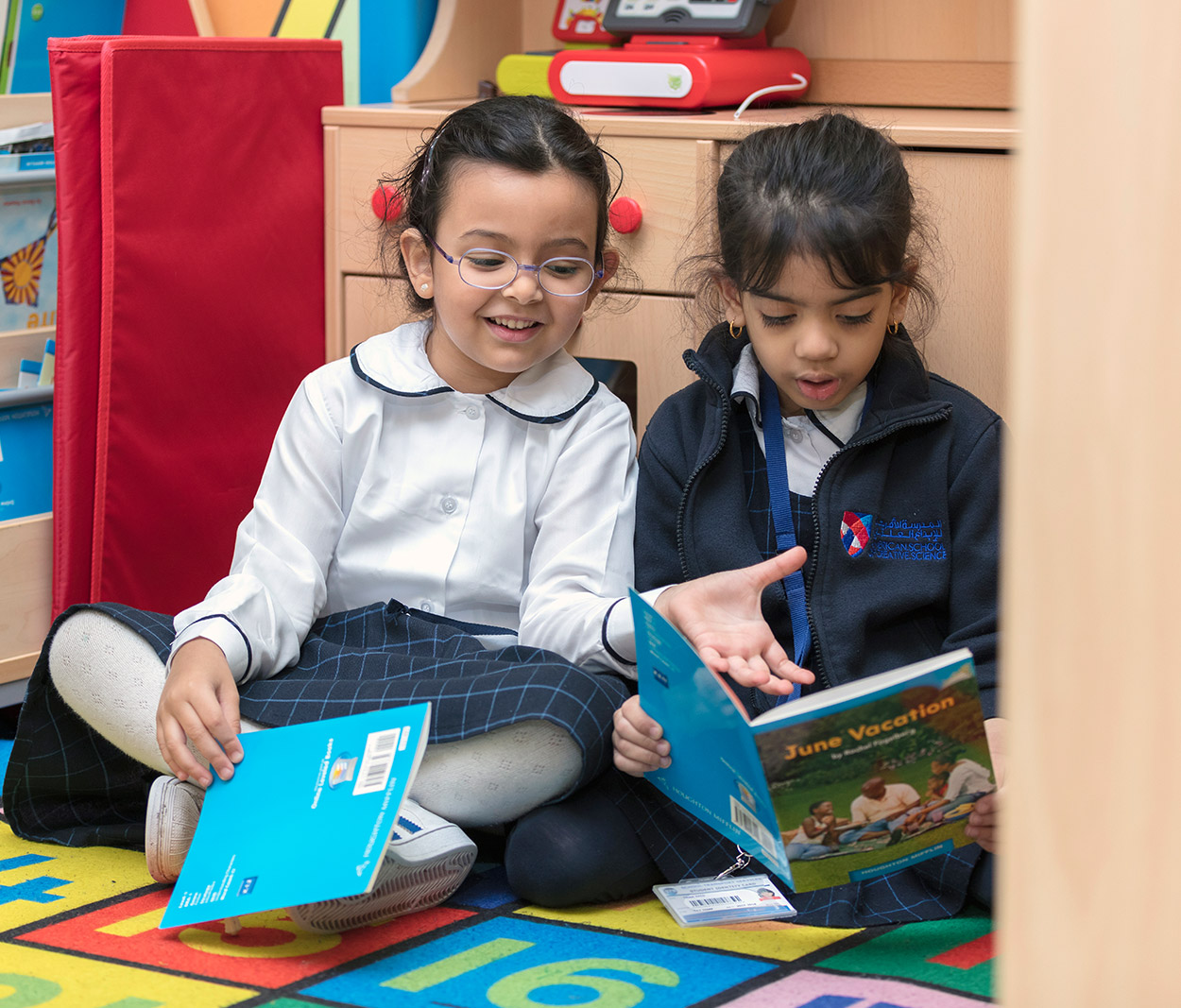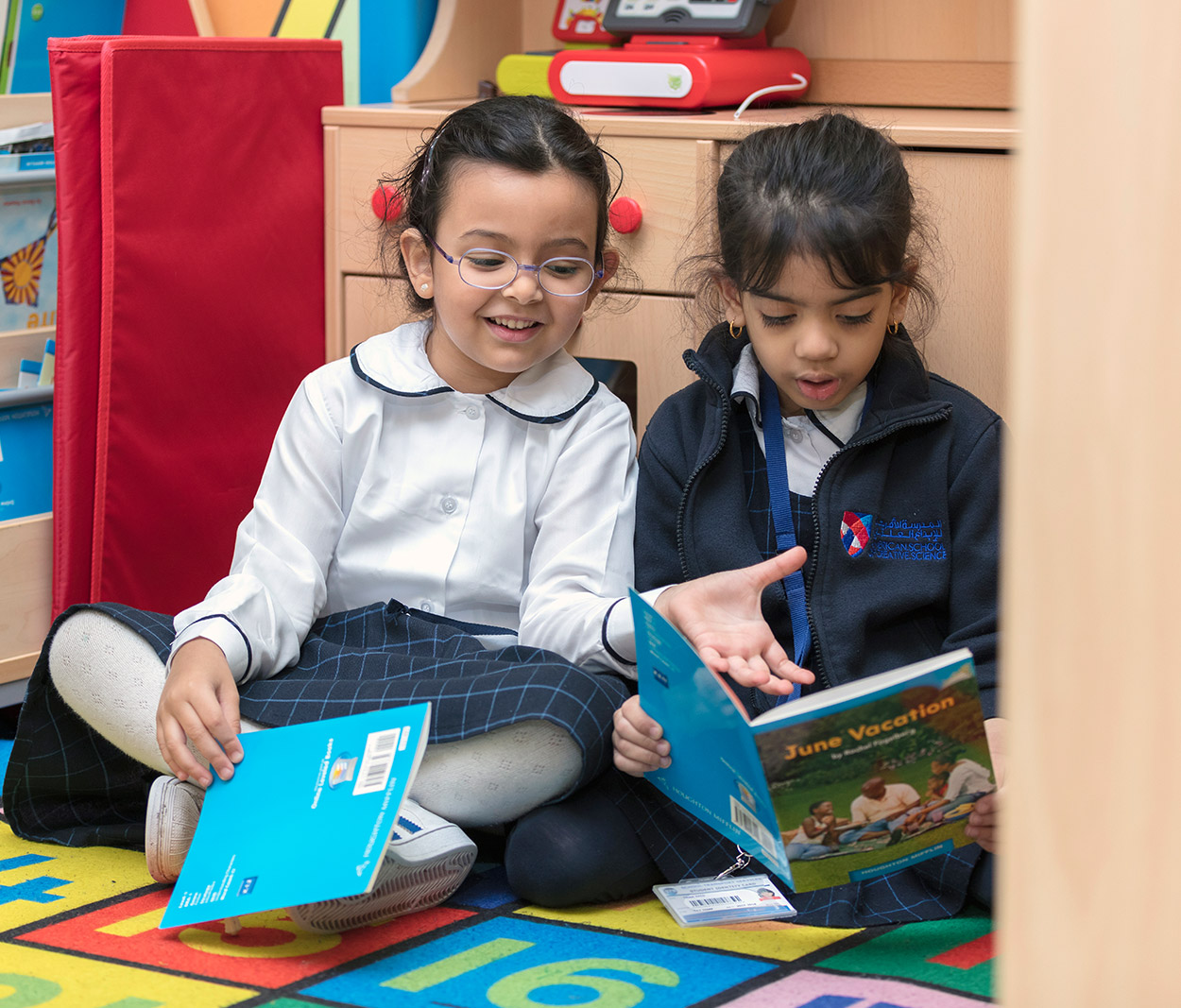 In KG 1 & KG 2 we place significant emphasis on the development of a positive self-concept, appropriate socialization, and learning readiness skills. It is here that our students learn key foundational reading and language art skills that set them on the path to becoming lifelong readers, writers, and effective communicators.

At our American Islamic curriculum school, the foundations are laid for a happy and successful school experience, where our students learn to take pride in their learning and develop the confidence to explore and take risks. These fundamental skills are taught in an active, stimulating, and accepting environment, which encourages exploration.

Our Arabic and English curriculum is coupled with our Islamic Studies and Quran curriculum which instills love and pride in the students for their faith and values.

Creative Science Schools take a holistic approach to the education of each child, as our goal is to meet the needs of every student and bring out their individual best. Curriculum for students in Grades 1 through 4 emphasizes basic skills in all subject areas and introduces higher-level skills to challenge students and stimulate their interests and thinking. The curriculum fosters the concept that learning will be enjoyable and rewarding throughout students' lives.

Being a prominent American Islamic curriculum school in Sharjah, our approach is focused on continuous progress and is used in the core curricular areas of reading, writing, mathematics, science, and social studies.

Formal teachings are offered each day in Qur'an, Islamic Studies, and Arabic. Our Qur'an Enrichment Program enhances our Islamic Studies curriculum and is taught according to the individual level of student ability with a focus on proper recitation and memorization and basic understanding of the meaning.

In addition to the core subjects, students receive instruction in physical education, art, computing, and the library.

Our curriculum is clearly outlined by grade and infused with strong cross-curricular links, providing opportunities for our students to demonstrate their talents, skills, and leadership qualities through curricular and co-curricular activities.

The instructional program makes a variety of provisions to support individual learning differences and all teachers strive to meet the needs of all students.
Inclusion Department
The Inclusion Program is available for students in all grades who require additional support. This support is designed to assist students to achieve grade-level standards, as well as challenge and extend students who are achieving above grade level in the mainstream classroom.
Where needed we work to provide alternative pathways. The Effective Learning Provision (ELP) Team provides planned accommodations, modifications, and teacher training and guidance.
English Language Learners (ELL) Support
At our American Islamic curriculum school in Sharjah, we are committed to providing differentiated instruction to meet the individual needs of all students. Following the sheltered instruction model, we provide English Language Learners (ELL) support within the mainstream classroom. In addition, where needed, our learning support assistants provide targeted intervention to raise proficiency levels.
Counseling Services
The Guidance Program supports the academic, social, and personal development of each student. Our Guidance Counselor and Social Worker work to support teachers to ensure the academic and behavioral success of each student. Individual and small group counseling sessions are available.
Bring Your Own Device (BYOD)
All students come to school with their Apple Devices. The "Bring Your Own Device" system in the Elementary & Middle School provides all students with innovative opportunities to research and create.
Digital Citizenship is a taught skill covered in our homeroom sessions, ensuring we are developing responsible users who can use their devices independently and effectively.
We believe in the potential for effective use of technology in lessons to transform teaching and learning and prepare our students to develop their digital literacy.
Learning Skills & Student Achievement
The American School of Creative Science - Al Layyah believes in the innate capacity of every child to achieve, excel, and succeed. This ability is fostered through high-quality academics, competent and dedicated staff, involved and caring parents, and outstanding management, providing a climate of positive learning and continuous improvement through measurable high standards.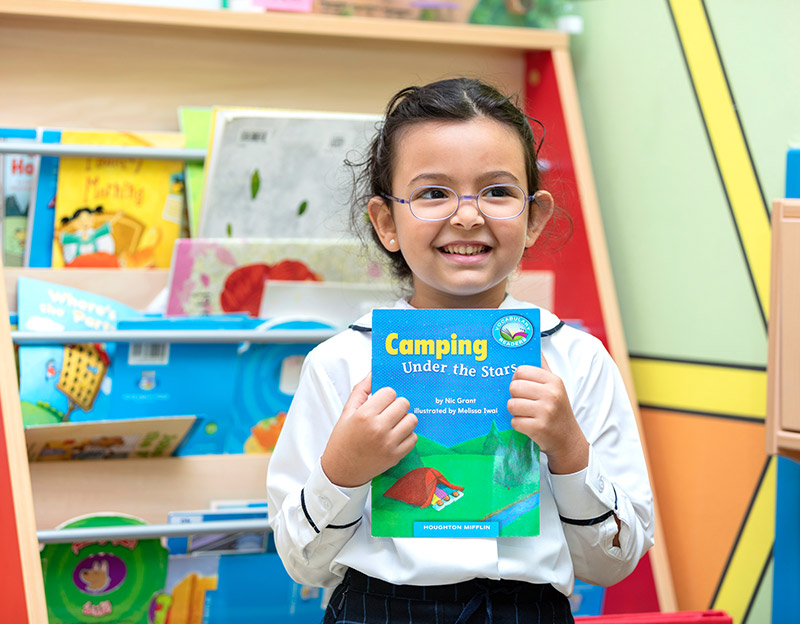 Attainment
At the American School of Creative Science, our emphasis is on high-quality teaching and learning together with rigorous assessment and regular feedback to ensure students are achieving their full potential. This methodology will help identify the next step in students' learning and attainment.

Attainment is holistically celebrated in our American Islamic curriculum school through rewards, honor walls, praise, certificates, display of work around the school and on digital displays. A key focus is placed on dialogue surrounding learning and progress along with awareness of targets and all students have access to their data and learning goals through their e-portfolios. It is through their e-portfolios that learning goals are co-constructed.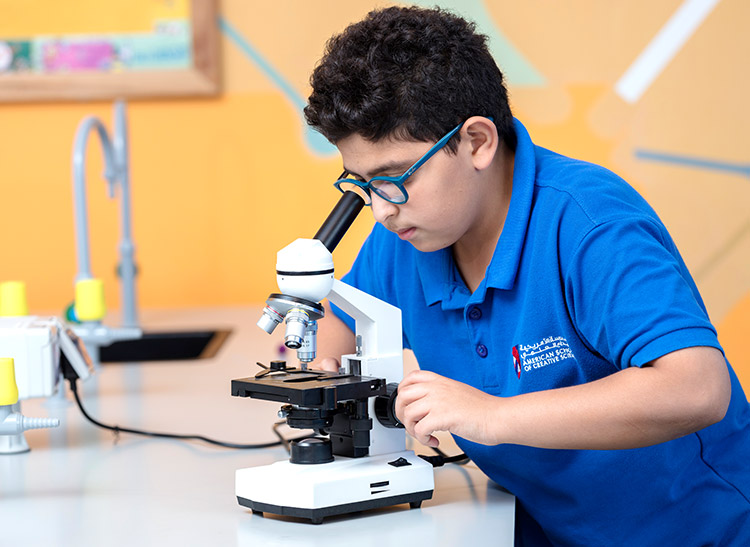 Student Achievement
One of The American School of Creative Science - Al Layyah main targets is for each student to aim and achieve high. Students endeavor to take part in various in and out-of-school competitions and events. Student achievement will be celebrated in the school by awarding merit-based points, certificates, and trophies at various presentations and ceremonies held throughout the year.
Content Delivery
At the American School of Creative Science, course delivery methodology is based on world-class renowned teaching strategies and best practices, with the aim to:
Achievement
Motivate students for tapping into and realizing their full potential.
Ensure the "holistic development" of the child.
Build self-confidence, self-awareness, and enable independent learning.
Establish a firm foundation of knowledge and skills in core subjects of English Language Arts, Mathematics, History/Geography, and Science.
Benefit from an enriched curriculum through Art, PE, and Computer Science.
Benefit from UAE National Curriculum in Arabic, Islamic and Social Studies.
A successful teacher at ASCS
Provides a safe and secure environment supporting our school's mission and core moral values.
Is an activator of learning.
Uses success criteria and clearly explains the learning journey.
Knows their students and uses data to inform learning.
Differentiates instruction to cater to the individual needs of the students.
Gives opportunities to students to reflect and self-assess.
Provides students with regular feedback to optimize the learning process.
Seeks feedback.
Has a growth mindset and talks about learning not teaching.
Promotes critical thinking and wider perspectives.
Collaborate with others.
Engages in dialogue, not monologue.
Communicates regularly with parents so that they can actively contribute to their child's learning.