Overview of US Curriculum School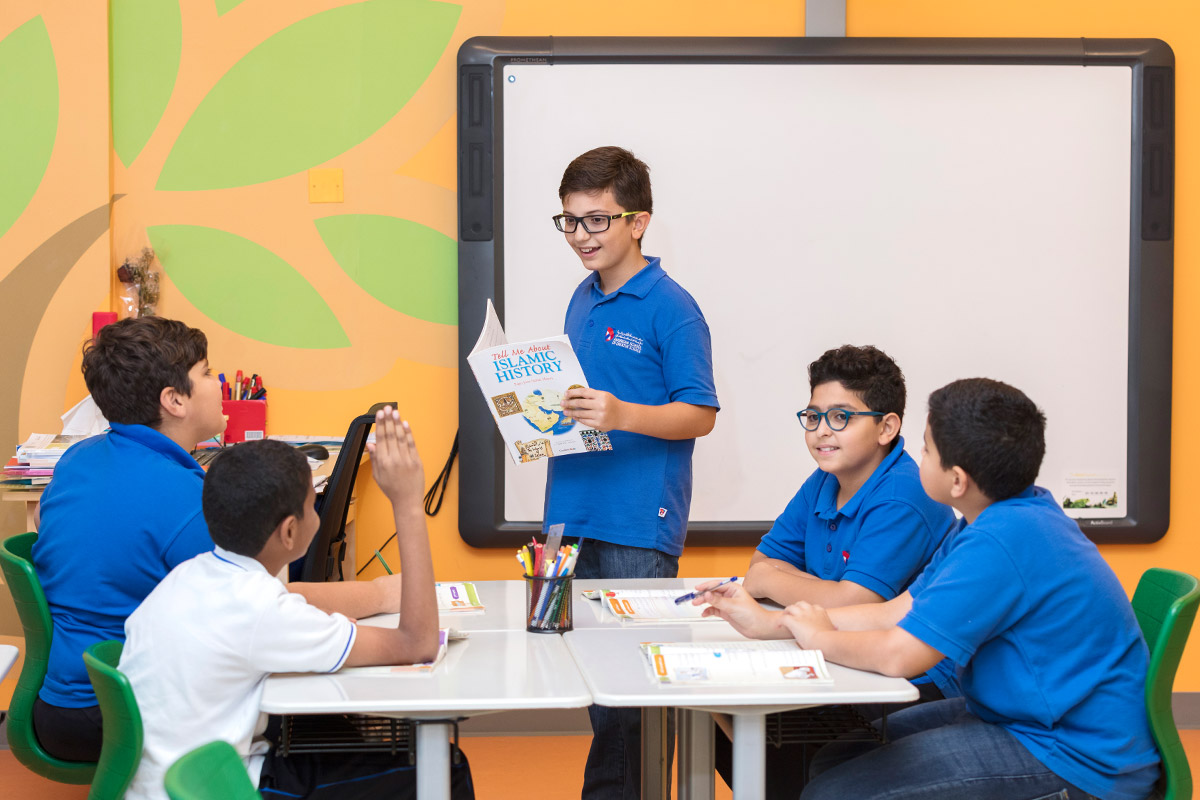 The US Curriculum is based on American Common Core State Standards for English Language Arts, Math, History/Geography, and Next Generation Science Standards for Science. This balanced American curriculum gives more creative freedom to tailor the curriculum based on individual needs.
Supported by internationally recognized teaching and learning strategies, this personalized instruction is inquiry-based and hands-on. In our American curriculum school in Dubai, students are supported by a wide range of co-curricular activities that ensure they have the opportunity to develop into well-rounded individuals who are ready to interact with their international peers.
Curriculum Goals:
Set high expectations for all learners so that students' growth and progress is evident and reduced disparity between groups of students
Nurture the intellectual, physical, social, emotional wellbeing of students and create a safe and respectful learning environment where students are supported and are risk-takers
We work to achieve our goal of producing future ready learners through our high expectations for all learners and coupled with this is the design of a rigorous and relevant curriculum as well as dynamic teaching inspire a passion for learning and help all students to realize their potential.
To continuously strengthen curriculum, instruction and assessment to enable students to be:
intellectually, physically and emotionally healthy;
globally competitive;
engaged, responsible and informed citizens;
college and career ready; and
able to demonstrate persistence and effort, a passion for lifelong learning.
Get to Know the KG Curriculum
In KG 1 & KG 2 we place significant emphasis on the development of a positive self-concept, appropriate socialization, and learning readiness skills. It is here that our students learn key foundational reading and language art skills that set them on the path to becoming lifelong readers, writers, and effective communicators.
The foundations are laid for a happy and successful American curriculum school experience, where our students learn to take pride in their learning and develop the confidence to explore and take risks. These fundamental skills are taught in an active, stimulating, and accepting environment, which encourages exploration.
Students are provided with a balanced instructional program in math that allows students to develop their knowledge and understanding of the relationship between numbers and quantities and build a foundation for place value as they count, represent and compare whole numbers, initially with sets of objects. Students also describe and model objects in their environment using simple geometric shapes and vocabulary. Through effective delivery students become proficient in basic computational skills and procedures as well as adept at problem solving.
Students' scientific investigation skills with the development of application and design skills are nurtured at an early age through exploration to such questions as: "What happens if you push or pull an object harder? Where do animals live and why do they live there? What is the weather like today and how is it different from yesterday?" They demonstrate their understanding of core ideas through asking questions, developing and using models, planning and carrying out investigations, analyzing and interpreting data, designing solutions, engaging in argument from evidence, and obtaining, evaluating, and communicating information.
All learning is thematic, allowing students to explore what it means to be a good citizen, national symbols, work (now and long ago), geography, time and chronology, and life in the past.
Our students' wellbeing is important, and at an early age our students learn skills that enable them to make healthy choices and avoid high-risk behaviors. This is inclusive of developing our students' ability to talk about their emotions, express emotion as well as develop their social skills that lead to developing positive pro-social behaviors increasing their social awareness and self-management skills and responsible decision making. Coupled with this is our emphasis on the importance of physical fitness. Fitness is developed through the activities in the daily lessons, which emphasize physical activity, continuous movement, and challenges that involve overloading the major muscle groups. Students have opportunities to understand the fitness components, fitness assessment, and the need for a lifetime of physical activity.
Our Kindergarten curriculum is enriched by our Arabic and Islamic Education provisions which instills love and pride in the students for their faith and values.

Get to Know the Elementary Curriculum
Creative Science Schools take a holistic approach to the education of each child, as our goal is to meet the needs of every student and bring out their individual best. American Curriculum for students in Grades 1 through 5 emphasizes basic skills in all subject areas and introduces higher-level skills to challenge students and stimulate their interests and thinking. The curriculum fosters the concept that learning will be enjoyable and rewarding throughout students' lives.
In Grade 1-Grade 5 an approach focused on continuous progress is used in the core curricular areas of reading, writing, mathematics, science, and social studies.
Formal teachings are offered each day in Qur'an, Islamic Studies, and Arabic. Our Qur'an Enrichment Program enhances our American Islamic Studies curriculum and is taught according to the individual level of student ability with a focus on proper recitation and memorization and basic understanding of the meaning.
In addition to the core subjects, students receive instruction in physical education, art, computing, and the library.
Our curriculum is clearly outlined by grade and infused with strong cross-curricular links, providing opportunities for our students to demonstrate their talents, skills, and leadership qualities through curricular and co-curricular activities.
At our American curriculum school in Dubai the instructional program makes a variety of provisions to support individual learning differences and all teachers strive to meet the needs of all students.
Get to Know the Middle School Curriculum
As part of our American curriculum school in Dubai, our goal in Middle School is to provide children with an environment that allows them to develop both cognitively and socially. Focus is placed on developing the ability to think critically and use logical reasoning, applying previously learned knowledge, and being confident in one's abilities. This transitional stage instills good study habits and skills which are expanded to include higher-order thinking and questioning across all subjects.
An engaging and rigorous academic program is the pillar of our middle school. Students receive intensive yet compelling instruction in core subjects. At the same time, teachers focus on the development of learning and study skills.

Get to Know the High School Curriculum
The High School curriculum is academically challenging preparing students for their future university studies.
Our core program emphasizes reading and the language arts, mathematics, science, social studies, Arabic language for native and non-native speakers, and Islamic Education for Muslim students. In addition, students receive instruction in health and physical education with an emphasis on healthy living and good moral character, which is enriched by our Physical Education offering in addition to our Virtues in Practice. All students continue their studies in the core areas while being exposed to a wide variety of electives such as, visual and performing arts, programming, and various humanities and science based electives such as psychology, business, human anatomy & physiology, environmental science, etc.
Beyond academics, ASCS aims to instill a strong sense of social responsibility and culture of kindness, developing our student's positive attitude towards lifelong learning as well as supporting their personal growth and future readiness. In line with this, all high school students participate in our Internal Community Service program allowing them to gain 40 hours of community service under various domains such as mentorship, fitness, inclusion, and literacy, empowering students to design and run their own community service campaigns.

Inclusion Department
At the American School of Creative Science, we are committed to the Dubai Inclusive Education Policy Framework. The Inclusion Program is available for students in all grades who require additional support. This support is designed to assist students to achieve grade-level standards, as well as challenge and extend students who are achieving above grade level in the mainstream classroom.
Where needed we work to provide alternative pathways. The Effective Learning Provision (ELP) Team provides planned accommodations, modifications, and teacher training and guidance. Further information can be found in the Inclusion Handbook.
English Language Learners (ELL) Support
ASCS is a proud member of the WIDA International School Consortium which is a community of accredited, PreK-12 international schools that use WIDA's research-based standards and assessments. Member schools are committed to developing inclusive programs that build on the assets of all learners while transforming the conversation about what multilingual students can do.
At our American curriculum school in Dubai, We are committed to providing differentiated instruction to meet the individual needs of all students. Following the sheltered instruction model, we provide English Language Learners (ELL) support within the mainstream classroom. In addition, where needed, our learning support assistants provide targeted intervention to raise proficiency levels.
Social Emotional Learning
Our Social Emotional Learning course is taught from K-Grade 8. It is mapped to Common Core; the Collaborative for Academic, Social, and Emotional Learning (CASEL); the National Health Education Standards; and the 6-8 curriculum is mapped to the International Society for Technology in Education (ISTE) Standards. Each unit teaches core kindness concepts: Respect, Caring, Inclusiveness, Integrity, and Courage. Each unit offers students the opportunity to:
inspire the audience, be it students or teachers
empower them by giving them skills or knowledge
act upon and apply these skills and knowledge
reflect on their learning and their actions
share their thoughts
Counseling Services
The Guidance Program supports the academic, social, and personal development of each student. Our Guidance Counselor and Social Workers work to support teachers to ensure the academic and behavioral success of each student. Individual and small group counseling sessions are available. Group counseling is structured to address cohort specific needs with interactive sessions aligned to American School Counseling Association standards.
Bring Your Own Device (BYOD)
All students come to school with their Apple Devices. The "Bring Your Own Device" system in the Elementary & Middle School provides all students with innovative opportunities to research and create.
Digital Citizenship is a taught skill covered in our homeroom sessions, ensuring we are developing responsible users who can use their devices independently and effectively. In addition, students engage in coding in their Computer Science lessons.
We believe in the potential for effective use of technology in lessons to transform teaching and learning and prepare our students to develop their digital literacy preparing our students to be future-fluent.
Please click here to see our BYOD Guidance for Parents.
Please click here to see our BYOD Policy which details the Acceptable User Agreement.
Learning Skills & Student Achievement
As one of the best American curriculum schools in Dubai, The American School of Creative Science - Nad Al Sheba believes in the innate capacity of every child to achieve, excel, and succeed. This ability is fostered through high-quality academics, competent and dedicated staff, involved and caring parents, and outstanding management, providing a climate of positive learning and continuous improvement through measurable high standards.
Attainment
At the American School of Creative Science, our emphasis is on high-quality teaching and learning together with rigorous assessment and regular feedback to ensure students are achieving their full potential. This methodology will help identify the next step in students' learning and attainment.
Attainment is holistically celebrated in the school through rewards, honor walls, praise, certificates, display of work around the school and on digital displays. A key focus is placed on dialogue surrounding learning and progress along with awareness of targets and all students have access to their data and learning goals through their e-portfolios. It is through their e-portfolios that learning goals are co-constructed.

Student Achievement
One of The American School of Creative Science - Nad Al Sheba main targets is for each student to aim and achieve high. Students endeavor to take part in various in and out-of-school competitions and events. Student achievement will be celebrated in the school by awarding merit-based points, certificates, and trophies at various presentations and ceremonies held throughout the year.
Content Delivery
At the American School of Creative Science, course delivery methodology is based on world-class renowned teaching strategies and best practices, with the aim to:
Motivate students for tapping into and realizing their full potential.
Ensure the "holistic development" of the child.
Build self-confidence, self-awareness, and enable independent learning.
Establish a firm foundation of knowledge and skills in core subjects of English Language Arts, Mathematics, History/Geography, and Science.
Benefit from an enriched curriculum through Art, PE, and Computer Science.
Benefit from UAE National Curriculum in Arabic, Islamic and Social Studies.
A successful teacher at ASCS
Provides a safe and secure environment supporting our school's mission and core moral values.
Is an activator of learning.
Uses success criteria and clearly explains the learning journey.
Knows their students and uses data to inform learning.
Differentiates instruction to cater to the individual needs of the students.
Gives opportunities to students to reflect and self-assess.
Provides students with regular feedback to optimize the learning process.
Seeks feedback.
Has a growth mindset and talks about learning not teaching.
Promotes critical thinking and wider perspectives.
Collaborate with others.
Engages in dialogue, not monologue.
Communicates regularly with parents so that they can actively contribute to their child's learning.